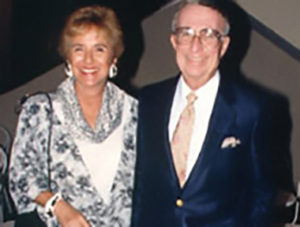 Carol and Richard M. Levin
I think my increasing knowledge of the Holocaust and its consequences led to whatever I have done in the philanthropic field.
As a young husband in the early 1950's I didn't allow time for much beside home and family. When I was asked to join a committee of the Jewish Federation called the Young Leadership Group, things changed. I became quite deeply involved in the immensity of the postwar life-saving efforts and the establishment of Israel. This led to leadership roles in the Federation, a board seat at H.I.A.S. and involvement in the creation of the Jewish Community Foundation and other agencies.
Later, because of an interest in art, I worked for and contributed to the Kansas City Art Institute and the Nelson-Atkins Museum. One interest led to another: Menorah Hospital, The New Reform Temple, others. Most of the philanthropic service and contributions turned out to be a source of pleasure indeed to Carol and me. The cliche is true: it is better to give than to receive.