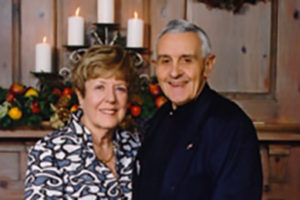 Elaine and Norman Polsky
Who are We? We will be married 57 years on July 4, and agree on so very much, based on our identities and mutual caring and respect. We are American and we are Jews and find this an equally compatible set of circumstances. Volunteering is an American concept and we both engaged in this early on. Likewise we worked very hard and studied and were educated (and continue to learn) and chose, as our heritage teaches us, to give back.
First, it was mainly time and talent and later as our financial standing became more solvent, we were able to give more substantially. This is true in the Jewish world and in our greater community as well as to family and individuals in need. In 2002, we were selected as "Philanthropist of the Year" by the Greater Kansas City Council on Philanthropy. Neither of us achieved being a Talmudic scholar but the teachings of our heritage are deeply embedded, as is our pride and gratitude for being Americans. Elaine's grandparents and one set of great grandparents came to America in the 1880's and Norm's family arrived in 1907.
Often when we give it is through the Jewish Community Foundation of Greater Kansas City where we chose to be the first Family Supporting Foundation. However, to us, most important of all is that our children, Karen, Larry, Ellen and Steve (and later theirs) are active members and decision-makers with us in our Foundation. Unfortunately, Joel, our son of loving memory died in 1982. He had an enlarged heart and his "big" heart spurred our philanthropy from our hearts. Just as our parents before us, we too want the continuity of our family to love and respect Who We Are! The Jewish Community Foundation is our vehicle to accomplish this. -Elaine and Norman Polsky, June 11, 2003