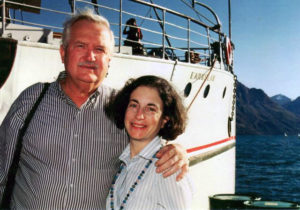 Nicole Krein, M.D. and Gerald W. Lyons
My grandmother, Bess Baum Krein, was a kind, generous and intelligent woman. She was born in Kansas City, Kansas in 1886 and moved with her parents, Charles and Threse Baum Manne, to Kansas City, Missouri after a great flood. She was very close to her mother who helped her raise her often times sickly 3 boys in Chicago after Bess moved there upon marriage at age 18. Bess also wrote and spoke fluent German which she learned from her parents.
Before the Great Depression, when Bess lost her husband and all her property and money, she used to bring strangers into her apartment and feed them when they were hungry. She valued education and had all her children confirmed by a reform synagogue in Chicago.
Bess was my father's mother. He was the middle child. My father became a lawyer, educated solely on scholarships. Bess died prematurely from colon cancer after much suffering at age 55 and is buried next to her parents in Rosehill Cemetery in Kansas City, Missouri. My husband, Gerald W. Lyons, and I established a scholarship after our deaths in her memory for The Temple, Congregation B'nai Jehudah.