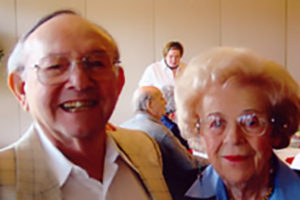 Ruth and Harry Baker
My wife Ruth, of blessed memory, and I always felt fortunate to be able to support many different causes to make the world a better place to live.
After our retirement, we spent a great deal of time at the Jewish Community Center using the health facilities and congregating with our friends. Through our years at the Center, we have seen the wide variety of activities that take place at the JCC. We enjoyed watching the many activities, particularly those associated with young children growing and learning at the Child Development Center (CDC). All of the cultural and sports activities, as well as the activities for every age impressed us tremendously.
Because of our wonderful experiences at the Center, it is our pleasure to create an endowment for the Jewish Community Center. We hope that this will help to insure a viable future for the wonderful programs and projects that the Center is known for.