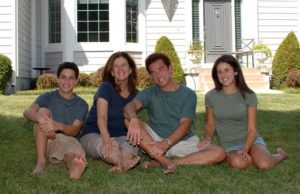 Debra and Stu Goldstein
We grew up in Kansas City, Missouri in the 1960's, the children of first-generation Americans, and lived in neighborhoods filled with many Jewish families of remarkably similar backgrounds. Within a five-mile radius, most middle class Jewish families lived, shopped, played and went to school, synagogues and "The Center,"—the Jewish Community Center at 82nd and Holmes Road.
By the time we married in the 1980's, the Jewish population in greater Kansas City had changed dramatically. No longer did Jewish families all live, congregate and participate at the same schools, organizations and events. As the population dispersed and Jewish families spread out into many different neighborhoods, the idea of a "center" of Jewish population was no longer the norm. Similarly, even the concept of "Jewish" no longer held the same meaning as Jewish families began to incorporate many different levels of backgrounds, faith and heritage.
As we raised our family and celebrated our daughter Mallory's bat mitzvah and our son Blake's bar mitzvah in the 1990's, it became increasingly important for us to maintain our ties to our Jewish roots. Additionally, as we both worked our way through corporate positions at companies including Sprint, Hallmark Cards and DST Systems, we each developed a concentrated desire to conclude our careers within organizations dedicated to building and maintaining a strong Jewish identity. Interestingly, we both have held, or are currently in, marketing roles in Jewish-focused organizations housed at the replacement for the old Jewish Community Center—the JCC in Overland Park.
Tied to all of this, we want to help build and enrich not only today's multi-layered Jewish population in Kansas City, but also the Jewish population here for generations to come. Thus, we are dedicated to leave a legacy, to celebrate and honor our Jewish past, present and future.