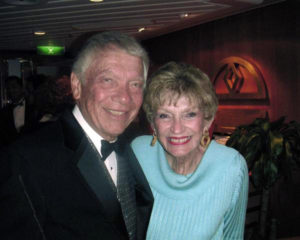 Herb and Beverly Fishman
When I was a teenager in South Philly back in the 30's, we lived in a row home within a 10-block area surrounded by other ethnic neighborhoods. In our little world, other than school, we had stickball, CCC trips, and Boy Scouts. In the center of it all was our synagogue and the Jewish Community Center. I will never forget the Boy Scout camp, Sunday morning classes, Hebrew lessons, and just being involved in a Jewish community. Up until the time I entered the Air Force at the age of 18, I found the Jewish Community Center a place of learning, spiritual guidance, and a place to meet new friends. Sports facilities were not easy to come by. I played basketball and worked out with my buddies.
After leaving the service in late November of 1945, I moved to Kansas City where my parents had relocated during the war. I joined the JCC and almost immediately met my wife Beverly at one of the social events. We were married the following year; after 62 years together and with the blessing of our two sons, Michael and Scott, we have a lot to be thankful for within the Jewish Community. Under the ensuing years I have never forgotten my roots. And our roots run deeply in the Jewish tradition of tzedakah.
It is an honor and a privilege to be able to leave one small mark on the tradition of helping the next generation to live and share in a better life of Judaism.