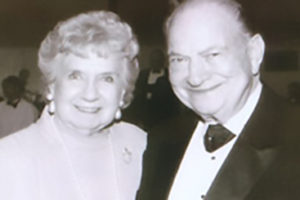 Jeannette and Jerry Cohen
My late husband Jerry and I were taught at a very young age to help less fortunate people. Jerry and I worked hard all our lives and feel blessed that we were born and raised in the United States where everyone has the opportunity to prosper from their own efforts.
Jerry lived his life with the basic belief that we are put on earth to help others. When you cease to give and help others, you have no purpose for living. We have helped many people and organizations over the past 70 years in Kansas City, the USA, Israel and throughout the world. We wanted our money to continue helping Kansas City and the Jewish community.
Jerry served as a trustee of the Jewish Community Foundation for 15 years and realized this was a very dedicated group of people who could and would continue his philosophy of assisting those in need in Kansas City and around the world.
We feel very comfortable with the untiring efforts of the leadership of the Foundation and know they will continue to serve the needs of the community.