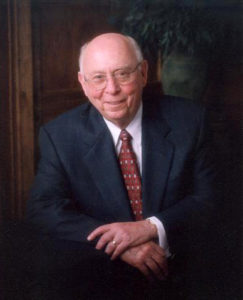 Barton P. Cohen
Death is not final if the living person before his death yields truths in the form of good left behind in the course of a lifetime. Barton P. Cohen along with his parents, Joseph and Margaret Cohen, left much to Judaism as well as to their community. Impressing themselves on the memory of the living, they too, live. Death is not final.
Barton P. Cohen, Joseph and Margaret Cohen were three of those people who, in the course of their lifetimes, have assured the responsibility of goodness and support of good causes both with their time and with their money. Their memory remains vibrant and inspirational.
Barton P. Cohen ,through whose generosity this trust is created, was a man immersed in the heart of everything commercial. But always uppermost in importance for him was the perpetuation of Jews and Judaism as well as the continued vitality of his community. Those interests came before his business interests.
In giving, Barton P. Cohen has left the imprint of memory on many. That imprint, that memory of what he left behind, is his second life. Those who leave good memories are blessed. Barton P. Cohen, Joseph Cohen and Margaret Pollock Cohen are most surely blessed now and forever.
Tzedakah tatseel me'mavet.
Acts of Charity Overcome the Sorrow of Death.