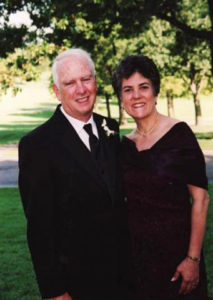 Richard and Barbara Atlas
Our parents always told us there were people less fortunate who needed assistance. We watched them help others in many ways, such as taking a polio victim to swimming classes, putting money in the blue box, making donations and constantly volunteering. We learned by their examples.
Having spent our lives also volunteering in both the Jewish and general communities, we hope we have contributed to improving our community. We have received much more than we have given due to all the wonderful people we have met and especially from knowing we have helped others. The Jewish people will survive if its institutions continue to exist and stay strong. We believe that it is not only an obligation to give, but it is an opportunity to insure the growth and continuity of our community with our endowment well into the future.
Continuing the traditions we have mentioned is important and we have taught our children the importance of helping others. Hopefully, this will sustain our work through many more generations of our family. We are pleased that our children have already shown an interest in serving our communities. We know they will teach their children our family's values of tikkun olam, helping others and making a difference.