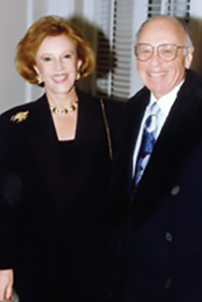 Ruthie and Harold Tivol
Giving back to our community has always been a priority for me.  After all, more than likely, my family would have endured the horrors of the Holocaust had it not been for an extraordinary and generous uncle who brought us to the United States about a year before Poland was invaded.  When I chaired the opening of the Anne Frank Exhibit, I was overwhelmed by the similarities of the Frank family and my family.  Only through the love, the goodness and the generosity of other people do miracles happen.
The most fragile thread separates us from those who need our support.  I feel blessed and it is a privilege to be able to give with love and a full heart.  I am deeply grateful that my husband, Harold Tivol, shares my passion and commitment to the well-being of our community.