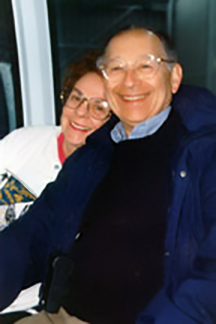 Sally and Don Tranin
Sally and I had role models who understood the importance of tzedakah, who had concern for others less fortunate and who valued Jewish institutions.
Sally's family has a long tradition of supporting Israel and meeting needs within their community.  Her grandparents, Honman and Anna Appleman, gave their Kansas City home as the first Jewish home for the aged.  It was the forerunner of Village Shalom.
My parents were more than leaders; they were pillars of this community as well as national Jewish organizations.  The Earl J. and Leona K. Tranin Fund was the first special purpose fund created within the Jewish Community Foundation.
These examples have had a lasting impact.  We view the Jewish Community Foundation as the way for us to project our values and concerns into the future.  So we have arranged to support the Foundation's Legacy Fund after we are gone.  Being able to do so gives us great pleasure.