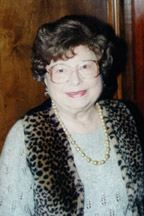 Fanny Yarmo
My paternal grandfather's family settled in Centerville, Iowa, and my maternal grandfather's family settled in Omaha, Nebraska.  My parents' love affair evolved mostly by letters until they married in Omaha in 1906.  By the time my sister, Esther Bushman, was to be born, my parents moved from Novinger, Missouri, where my father had a General Store, to Kansas City, Missouri, so that she could be born in a hospital.  Four years later, I was born in Kansas City also.  By the time Beth Shalom was built at 34th and Paseo, my parents were actively involved in the synagogue life and occupied an honored place in the second row at all services.  When my father died in 1954, Rabbi Hadas requested the funeral be held in the sanctuary of the synagogue.
We had happy conversations around the dinner table, joking about how many bricks in the new edifice were from our family's contributions to the building fund.  Knowledge of Jewish history and a college education were necessary goals of my parents for my sister and me.  Both of us attended Sunday school for two years past confirmation and received college degrees at a time when few women continued to college after high school graduation.
I am interested in continuing the ideals that Beth Shalom inspired in the lives of my parents, and for that reason the fund in my parents' memory was established for the benefit of Beth Shalom Synagogue.