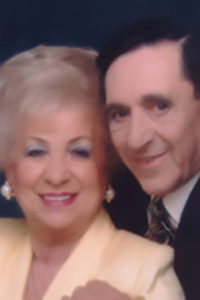 Maria Devinki
In 1950, our family arrived in Kansas City with the help of H.I.A.S. and the Jewish Federation of Kansas City. We were grateful that our lives had been saved, but not our means. We had no finances to speak of. Coming to Kansas City gave us new opportunities for education and careers.
The examples I had learned as a child were that as Jews, we were responsible for one another and that we should always help the best way we could. I remember a wealthy woman who lived in our town. Every Friday, she made extra food and delivered it to other Jewish families that didn't have enough for Shabbat.
My father and brother always dreamed of going to Israel. They saw it as the homeland for the Jewish people. Today, history has taught us how important it is to preserve that homeland.
My husband and I worked hard and we were blessed. We began to give money to the Federation. It became our vehicle to help aid Jews in many places, wherever there are needs—something that had not existed for us before.
As I learned about the Jewish Community Foundation, I found that it could help fulfill our goals of continued support of Jewish survival not only now but in the future. Regardless of where my family will live or their life's pursuits, I will know that the Jewish values my husband and I believe in and support will continue to receive funding in the future.
Whether a family has experienced the horrors of the Holocaust or has grown up with the blessings of democracy, we hope that the example of leaving a legacy to the Jewish Community Foundation will teach the true meaning of tzedakah.